Our Vision

Over here at "The Inspection Boys" we aim to be the flag bearer of the home inspection industry; whose services are a standard for other inspection companies in the world to emulate. Offering premier and leading edge Inspection Services, we are committed to delivering honest, quick, and authentic reports for all our customers.
Mission Statement & Core Values
While upholding the highest standards and values in the industry, our mission is to deliver an honest, impartial, and objective evaluation of every property we inspect. Our employees and inspectors will be the industry benchmark in expertise, integrity, and customer service, recognizing that a customer's trust is earned, not given.
By staying true to our morals we use technology to innovate the inspection service industry. Our inspectors have integrity, expertise and are worthy of customer trust while having fun exceeding their expectations. is an impartial and objective company that's working for you, and committed to deliver and honest and authentic evaluation of your property.
. Ethical, Honest, Trustworthy inspector
∙ Teamwork makes the dream work
∙ Always striving to be the best in the industry
∙ Use technology to leverage time and energy
∙ Visionary mindset
∙ Positive attitudes
∙ Going the extra mile
Request an Inspection! (800) 819-4403
Matthew Rivera
After purchasing his first rental property, Matthew quickly learned and appreciated the priceless value of a great home inspection. After making a few mistakes by not valuing the home inspection process, Matthew set out to learn as much as he could about home inspections to protect himself as he invested in additional properties. As he learned more, and investigated the industry more, he found there was a need for more, quality home inspections. He became a student of the industry and soon after became a licensed home inspector himself. In addition to being a home inspector, Matthew is also a licensed New York State home inspections teacher, a licensed Mold Assessor, Termite Inspector, Utility Consultant, and 203k Consultant. He also owns and operates a home inspection school, helping others attain their dream of becoming a licensed home inspector, and has put dozens of people into the profession. Matthew also saw that many of his students excelled at doing home inspections but struggled with the business side of the industry. From that revelation, The Home Inspection Boys were born. He knew that if he developed a great business model that was easy to learn and operate, he could help other home inspectors achieve their dreams and allow them a way to build wealth and create equity in a business. Matthew's passions are real estate and people. The Inspection Boys allows him to live out his passion every day.
When he's not working, Matthew is a devoted family man and father of five children.

Matthew has always had a passion for real estate and helping people. After purchasing his first rental property he quickly learned value of a good home inspection. Learning from his mistakes he started learning everything he can about home inspections. Noticing what the industry was lacking he set out to become a licensed inspector. Matthew has 17 years of construction related experience. He is also a NYS licensed home inspection teacher, licensed mold assessor, termite inspector, utility consultant, and 203k consultant Understanding that the industry was changing and technology was replacing a lot of the old ways. Matthew started a home inspection school. It wasn't enough; he then realized that most students were great at doing home inspections but not great at running a business. This was the birth of The Inspection Boys. He wanted to combine the latest technology with the systems and processes to be successful. When not at work, you will likely find Matt alongside his family of 5 in one of their many homes enjoying family time.
Robert Aglialoro
Robert also shares Matthew's passion for real estate and people but took a different path to success in the home inspection industry. Robert grew up in an incredible family and and his parents loved and supported him in everything that he did. Like many parents, they wanted Robert to be successful and wanted him to get a job and work for someone else as a way of providing for himself and his family. Robert and his wife Melissa started their family when Robert was just 20 years old. Robert says that having his first child at such a young age propelled him to think about the way he wanted to raise his kids and how he would provide for them. He knew that he wanted to run his own business and become an entrepreneur so he would have control of his future, and make money for himself, not someone else. With his background in construction, Robert was soon introduced to the home inspection industry. Finally, he had found an opportunity that combined his desire to succeed in his own business, with the knowledge and skills he had learned in the construction world. By becoming an Inspection Boys franchisee, Robert soon had his own successful franchise and wanted to teach others how they too could own and operate their own franchise.

Robert believes that anyone with a strong work ethic and a desire to succeed can own and operate an Inspection Boys franchise, and he will be there to support them along the way. A little back information of where I have been to understand my visions for the growth of The Inspection Boys & partners. My beginnings is not so different than the average person who was brought up in a middle class family. I grew up with a roof over my head and the worlds best parents, but parents with very limited vision of what's possible outside of what they knew and were comfortable with. I started my family at the young age of 20 with my wife Melissa. Having a child at an early age began as the scariest thing I could imagine but was the biggest blessing I could of ever asked for. I knew that the struggles I witnessed my parents go through was something I never wanted to feel, this FEAR is what set my attention to focus on what is possible and helped to exit my "comfort zone". I found the home inspection profession was something I was passionate about and also can help others which I enjoy greatly. With previous knowledge and experience in construction I completed the NYS requirements quickly to obtain my home inspection license over 4 years ago. Being a licensed home inspector has provided a great education and has been an asset to being able to run a successful home inspection franchise. The ability of knowing and experiencing many of the difficulties a franchisee partner may go through and having the ability to advise them of how to navigate through from having first hand experience is exponential. Focusing on the most important aspects of running a successful business and learning many of the traps and paths that don't lead to success allows us to be a great partner for our franchisees. I believe very strongly that each and every person can achieve the greatness we all have within ourselves and I am excited to be a position now to help those seeking their greatness find it!
Brigitte Malik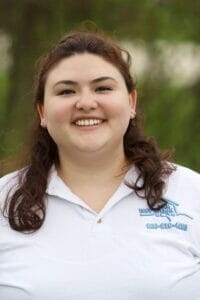 Brigitte was born to be an entrepreneur having grown up in a family that owned numerous businesses and was heavily invested in the real estate market. Having wanted to own her own business since she was a child, Brigitte left home and started her own business doing insurance inspections. While having her own business was great, she wanted to expand and grow her business and her skills as an owner. Brigitte decided to become a licensed home inspector was soon doing home inspections as well as insurance work. She is also a licensed Asbestos and Mold Inspector, a New York State licensed Home Inspection Instructor, and a New York State approved Real Estate Instructor. Putting her entrepreneurial skills to better use, she joined The Inspection Boys and found out that her experience in building her own companies meant that she could play a key role in developing the processes and systems necessary to support their franchise owners.
Brigitte is committed to helping the other Home Inspection Boys franchisees succeed with her never-ending attention to the details.
Brigitte has grown up in a family heavily involved in Real Estate. Her parents had numerous successful businesses and Brigitte always had the entrepreneurial spirit from the beginning as a child. As Brigitte got older and went off on her own she opened a business doing primarily Insurance Inspections. Brigitte saw a deeper need in the industry she wanted to learn more and become more valuable. Brigitte then entered into the Home Inspection Industry by obtaining her Home Inspection License and soon found she was successful with helping build companies and implementing systems. This led to Brigitte joining The Inspection Boys team. Brigitte is proud to not only be a License Home Inspector but also has the following credentials behind her; Licensed Asbestos & Mold Inspector, Approved NY State Home Inspector Instructor, NY Approved Real Estate Instructor and more! She is committed to helping franchisees succeed and build their business in this industry!